"What will lighting be like in the future?"
Extrait de l'interview …L'offre dans l'éclairage est en pleine mutation, notamment à cause des enjeux écologiques. Le futur passe par de nouvelles sources lumineuses, plus saines en consommation et en durée de vie, et d'une exploitation plus efficace. De nouveaux scénarios de lumières sont à recréer dans et hors de la cité. La lumière doit être utilisée avec plus de finesse, à la manière d'un aquarelliste qui dessine son décor autour de la lumière…  On n'a toujours pas égalé la magie hypnotique de la flamme de bougie. Le luminaire de demain ira dans ce sens, une lumière plus sacrée  et porteuse d'émotion.
Télécharger le texte intégral de l'interview >> interview Bruno Houssin 2009 – Pdf 140 Ko
Extract from the interview ….Lighting is in full change, in particular because of the ecological stakes. The future stands in new light sources, sounder and more efficient from a consumption, lifetime and usage point of view. New scenarios of lights must be created, in and out of the city. Use of light must be more delicate, like a water colours painter drawing his decoration around the light… Never yet was equalized the hypnotic magic of a candle flame. Lighting fixture of tomorrow will tend to it, a sacred light, a vector for emotion.
Download full lenght interview here >> interview Bruno Houssin 2009 – Pdf 140 Ko
Auszug aus dem Interview …Das Leuchtenangebot ist in voller Veränderung insbesondere wegen der ökologischen Einsätze. Die Zukunft geht durch neue Lichtquellen, die in Verbrauch und in Lebensdauer gesündere sind, und eines wirksameren Betriebes anbieten. Neue Lichtszenarien sind in und außerhalb der Stadt wieder herzustellen. Das Licht muss mit mehr Feinheit auf die Art eines Aquarelliste benutzt werden, das seinen Dekor um das Licht zeichnet… Man hat die hypnotische Magie der Kerzenflamme noch nicht gleichgemacht. Die Beleuchtung von morgen wird in diesen Sinn, ein heiliges Licht gehen, das für Aufregung sorgt.
Laden Sie >> den vollständigen Text hier – Pdf 140 Ko

 Portrait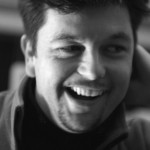 portrait image JPG 300dpi   >> B.Houssin portrait image / Zip  – 1Mo